If you are interested in coaching here is a brief outline of what we consider a major part of our clubs activities.
If you have any questions regarding our programme please feel free to contact me. We can help with sponsorship of coaching qualifications. If you are keen to explore the possibilities you are welcome to join one of our sessions as a volunteer to see if coaching is for you.
The club has a tradition going back over 25 years of coaching, contributing not only at local level but also represented at National angling forums and committees. It is fair to say that the club has always made major contributions to the development of coaching techniques and taking angling forward.
During a normal year we have a varied and interesting coaching programme: Representing angling at events such as the Rickmansworth Canal Festival in May to the recently established Aylesbury Waterside Festival in September. Regular Saturday coaching sessions feature on the clubs canal waters at Cooks Wharf, Cheddington and Ressie Pound, Marsworth. Special events include Rivers Thames around Oxford and the clubs River Thame fishery at Shabbington Island.
We like to bring variation to the sessions by having short try fishing events, Family days with a friendly match and a BBQ. Longer coaching times dedicated to improving your fishing techniques. We plan a couple of formal junior matches in 2021 with a hope we can extend to national competitions.
The club normally has a programme of helping the disabled and disadvantaged. Sadly our work with Nash Mills based Waterway Experiences Enable scheme, Watford Stroke Association and Schools were cancelled this 2020. I know that many of our coaches and volunteers find these days and evenings particularly rewarding.
We met the challenge of 2020 with a Canal & River Trust Lets fish programme which allowed us just two coaching stations, pre booking only and a maximum of 2 participants per coach. Well worth the effort and thanks to those who made it happen at all levels.
Dick Pilkinton
Chairman, 07796 178313.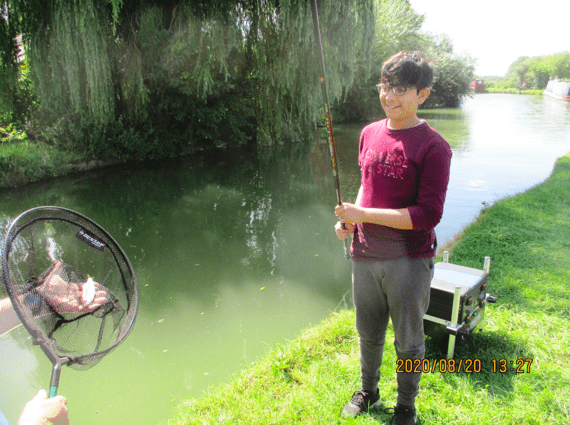 Cooks Wharf, Lets Fish 2020, and 2 metre distancing rules! 2 coaching stations only 20 yards apart. We caught fish though!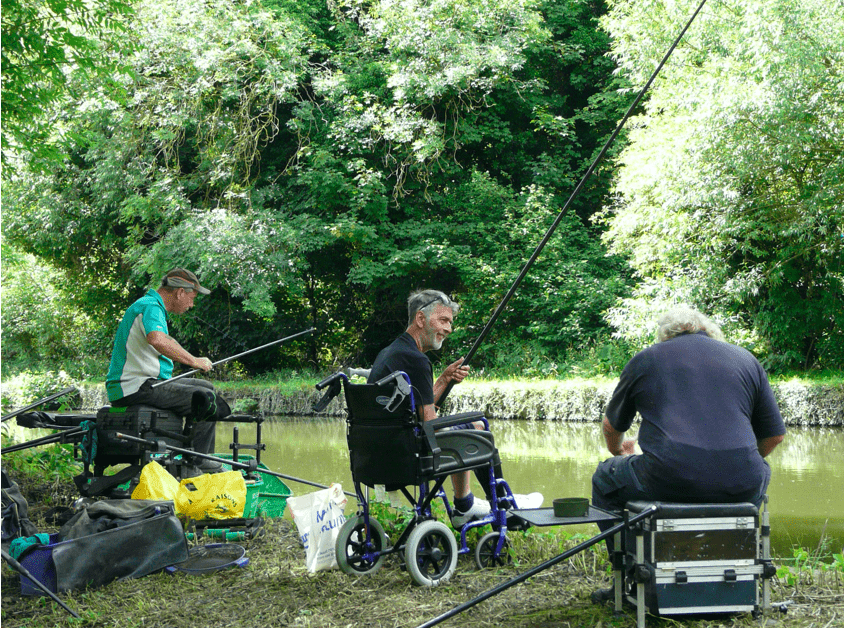 Stroke ASSC 2019. Our special guest Alan Catchbone (White Stripped T shirt) is a successful one armed matchman .An inspiration to both coaches and participants